National Library Board Singapore, Singapore
www.nlb.gov.sg/
Address:100 Victoria Street #14-01, SINGAPORE 188064, Singapore
Phone:+(65) 6332.3133
Fax:+(65) 6332.3611
E-mail:sundusia_rosdi@nb.gov.sg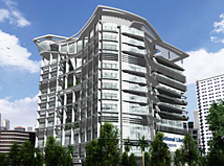 National Library Board Singapore

Established on 1 September 1995, the mission of the National Library Board Singapore (NLB) is to provide a trusted, accessible and globally connected library and information service through the National Library and a comprehensive network of Public Libraries. Through its innovative use of technology and collaboration with strategic partners, NLB ensures that its library users have access to a rich array of physical and digital information services and resources that are convenient, accessible and relevant. NLB envisions itself as an inspiring beacon of lifelong learning, bringing knowledge alive, sparking imagination and creating possibility for a vibrant and creative Singapore.
National Library Singapore

The National Library Singapore (NLS) is a national knowledge institution that empowers individuals and businesses with knowledge and information as it continuously expands its vast array of reference collections and services. As a national repository of the Singapore's heritage and literary output, it oversees the acquisition, conservation, organisation and access to its collection on Singapore, Southeast Asia and other collections in print, digital and other formats.
 
Public Libraries Singapore

The Public Libraries Singapore (PLS) provides a professional and engaging public library service to Singaporeans in their pursuit of lifelong learning and discovery through its network of 22 Public Libraries located conveniently across Singapore.
National Library Building

Officially opened on 12 November 2005, the National Library Building is a national knowledge icon located at 100 Victoria Street, in the heart of the arts, cultural, entertainment and civic district of Singapore. As an icon and a prominent landmark, it embodies the nation's unflinching pursuit of excellence and is a beacon of lifelong passion for knowledge and learning.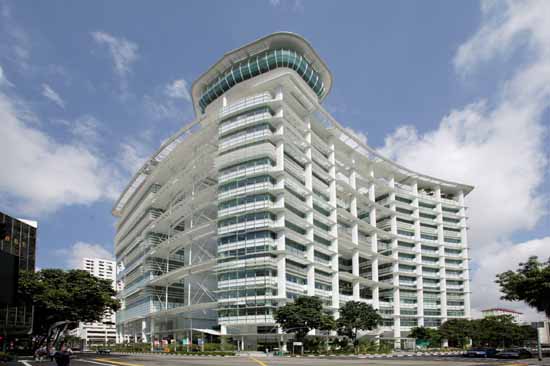 The 16-storey building strives to be a modern knowledge hub that will meet the information and research needs of scholars, professionals, researchers and students in Singapore and the region. It houses the National Library Singapore, including the Lee Kong Chian Reference Library from levels 7 to 13 for library users to do their reference and research. In its basement is the Central Public Library that provides patrons with a wide selection of lending materials including a large fiction collection. The building also has tenants like the Drama Centre, a purpose-built performing arts space, owned and managed by the National Arts Council. The Corporate Office of NLB is located on the 14th level.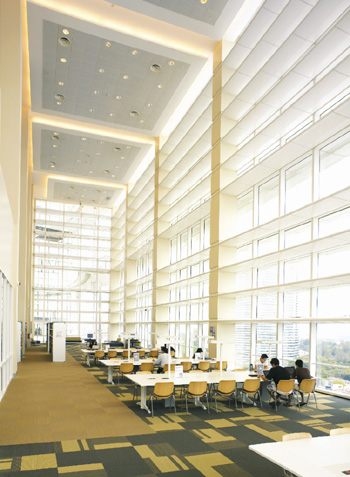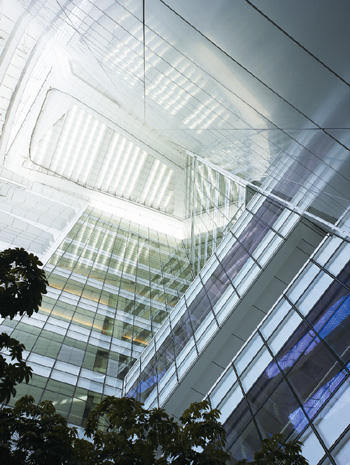 The National Library Building is also an innovative 'green' building designed as a "Library for the Tropics" using bioclimatic design techniques. Internationally recognised as an architectural icon and designed as a 'green' library building, its deployment of various innovative 'green' features keeps the building operating in an energy-efficient way and does its part for a more sustainable environment. For the considerable 'green' outcomes achieved, the National Library Building has won several awards in recognition of its energy-efficient features, including the First Prize in the ASEAN Energy Efficiency Award under the 'New and Existing Building' category in August 2007.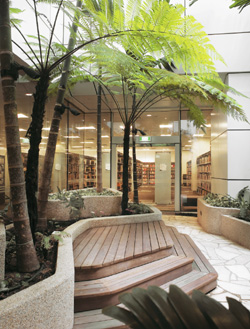 Lee Kong Chian Reference Library

Designed as an integrated learning centre where individual learning is experienced through both high-tech and high-touch elements, the Lee Kong Chian Reference Library effectively meets users' needs for connectivity, efficiency, convenience and comfort.
The crown jewel of the Lee Kong Chian Reference Library is a triple-volume library floor with a book wall. It houses the Singapore and Southeast Asian Collections featuring works on all subject areas with a focus on history, literature, culture, and more. The collections also include works in the form of microfilm, maps, audio-visual and posters covering all subjects with a special emphasis on Singapore.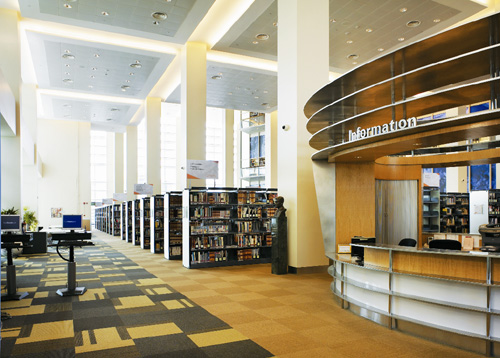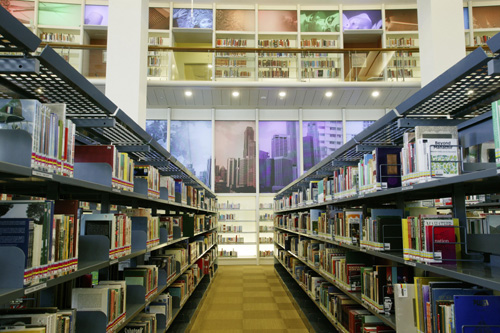 The Pod

The Pod on level 16 is an enclosed space for library programmes and corporate functions. Strategically edged on the sea-facing side of the building, it offers a breathtaking panoramic view of Singapore's cityscape.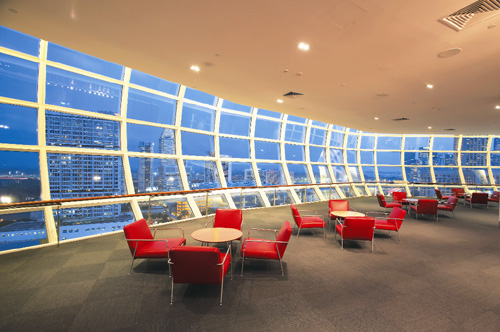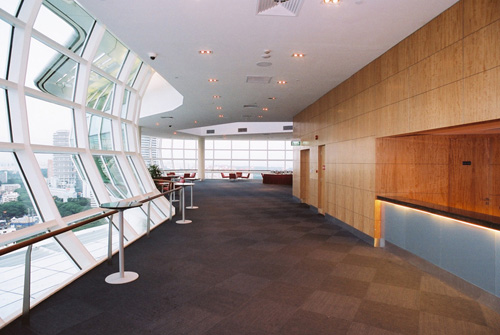 Analogous with the new perspectives of the cityscape from this elevated point in the building, it is the abiding hope of NLB that NLB will be a gateway to new worlds of opportunity for Singaporeans and, in time, their beacon of lifelong learning and knowledge for success.


(Photos provided by National Library Board Singapore.)